Question for you
Has diet culture, social and media influences, or your lived experiences affected the way you feel about your body or think about food?
If yes, you may have struggled with negative body image, bouncing around different diets trying to find the right one, or disordered eating.
This makes sense and it is not your fault. Diet culture is prevalent in all of our lives - making it hard to pursue health in a way you enjoy, physically and mentally. 
You deserve to break free
from diet culture. 
Maybe you're thinking: "I'm too overwhelmed and busy to heal". Well, that's the point.
You're burnt out from fad diets, intense workout programs, stressing about the scale, and being dissatisfied with your body. Life has become more about finding motivation and willpower to reach unattainable body goals than discovering your worth as you exist now.  
All those things you told yourself "had to wait" until you lost weight? That's in the past.   
I'm so glad you're here!
I'm a dietitian who will NEVER tell you what you can and cannot eat. Food serves so many important aspects in our lives: culture, connection, comfort, fueling sport performance, nostalgia, easing emotions, pleasure, and hunger. I believe you know your body best and I am here to support you in your lived experiences. 
Nutrition counseling services can be intimidating - I believe it's important to build a trusting relationship in which we can have a conversation, joke and laugh, and find a solution that works for you.
I also love using resources from other mental health providers of various gender identities, body sizes, races, ethnicities, and cultures to help provide different perspectives.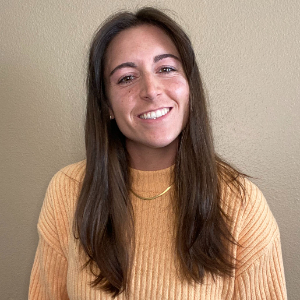 Health At Every Size (HAES) Provider
Non-diet Medical Nutrition Therapy
Eating Disorder Recovery
Intuitive Eating
Digestive Issues
Sports Nutrition
Maybe you are here because...
​​
You feel obsessed with food
You are stressed when making food choices
You are frustrated for feeling disconnected from your body and your life
You are exhausted from always trying to figure out the "right way" to eat
You feel uncomfortable from dealing with GI symptoms
You have tried multiple diets without long-term success
You are ready to have a trusting relationship with your body, but are not sure where to start
THIS IS ME
Imagine living a life of freedom.
This is what's available to YOU in
as short as 12 weeks:

​​
You are able to

eat

the foods you want

and enjoy

You

don't stress about food and ask, "What food is going to be there?" when leaving the house

You stopped comparing yourself to others in your life or on social media

Your constant and uncomfortable GI symptoms are gone

You are connected with your hunger and fullness cues

You wear the clothes you feel comfortable and confident in

You have energy to be present in your social life
I WANT IN
This is the place for you.
Starting this journey can feel overwhelming and scary. That's why I am here, to be with you every step of the way.
Requesting an appointment or signing up for a group program does not lock you in. You will have a free 30 minute call with me to share your experience, what you are seeking support for, and to see if this is a good fit. I'm excited to meet you!
LA (she/her)
"Working with Abbey has literally changed my life, and my perspective on food and nutrition in general! I came to her at a time in my life where I was experiencing huge changes and was dealing with a new diagnosis of IBS, and was attempting to quit nicotine. This had huge adverse affects with my digestive system. I went to a gastroenterologist, but personally experienced a very surface level solution with medication as the main solution. Abbey listened to everything I had been going through, and approached a solution very holistically. She wanted to find out what was happening and approach a solution that worked for my lifestyle.
In only 6 months I went from not being able to eat much without stomach issues, fearing any food would cause me stomach pain, to knowing my body better than ever. Abbey coached me through everything I was experiencing and helped me get to a point where I felt I could be curious about my diet instead of fearful. I would definitely recommend Abbey to anyone looking for nutritionist advice, and tell anyone I know to head to her for service.
11/10 would recommend."
ZA (she/her)
"I'm a full time college student and work part time. Prior to working with Abbey, I had no idea the stress I had put on my body image and relationship with food. I just knew I wanted to stop thinking so much about my body. Throughout many sessions of me being sick or anxious, Abbey was always very encouraging and held no judgement. Just a few weeks into working with Abbey, I could already notice positive shifts in my thoughts with food and body. Investing in these sessions seem so small, when reaping the physical and mental reward of it all. Today, I can honestly say that I'm free from guilt with food and have reached body neutrality!"
Nice to meet you!
Hi! I'm Abbey, a registered dietitian passionate about helping you find food freedom.
Rewind to 2013, I struggled with an eating disorder and over exercising, both of which took over my life. It took me years to seek help out of fear, not knowing the resources/ professionals available, and thinking I was "not sick enough". My all-consuming relationship with food and body image kept me from fully living my life. I missed out on making memories with friends, enjoying vacation, and being able to explore the city I lived in. I missed out on relationships, being present, and pleasure. Today, I consider myself fully recovered. I now have my ideal relationship with food and my body, both of which seemed unfathomable in 2013. I am able to be fully present in my life and show up the way I always wanted to.
We have different lived experiences, and I want to center yours. I believe it helps to work with a provider who has a common understanding and shared experiences with their clients.
More about Abbey
hang with me on instagram
follow
I post fun, relatable, educational, and sometimes sarcastic content. This side of the internet is ALL about building a positive relationship with food, finding joy in movement again, and healing your relationship with your body - no guilt or shame, ever.